My journey into the world of Ryijy
---
Having painted with wool for most of my life I am often told I am the only artist in the UK who practices such a craft. I became aware of the ryijy when studying constructed textiles in the late1950's. They were something new and fascinating ; rugs which were not to be put on floors but designed to be hung on a wall; an art form, as a tapestry. Colours were more vibrant than anything seen in the hangings to which I had been accustomed and then there was the pile, its length caused movement and shapes which haunted me.
The contemporary weavers were beginning to produce 'ryas' but these were not as exciting as I wanted, they appeared flat, had no life or story in them. I wanted to be offered more but did not know what. Then the chance came to find out. Travelling to Scandinavia in 1959 I found the answer. A Ryijy should tell a story, invented by the spectator; fuelling imagination. A chance to contemplate, to dream, to reflect and meander ones thoughts. I needed to paint with wool
I am so glad I am a member of the On Line Guild otherwise I should not have discovered your books.
New British member of Weavers' Spinners and Dyers Guild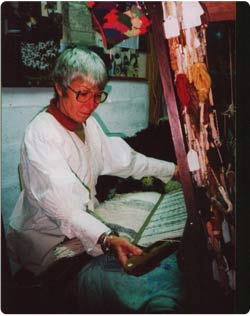 What delightful little books of indirect teaching.
From Western Australia
Each is a painting with wool, worked freehand from the original sketched idea. Woven on low warp looms the Ryijy is composed of (on average) 15,000 knots and weighs from, 11 kilograms to 30 kilograms. There is no possibility of mass production.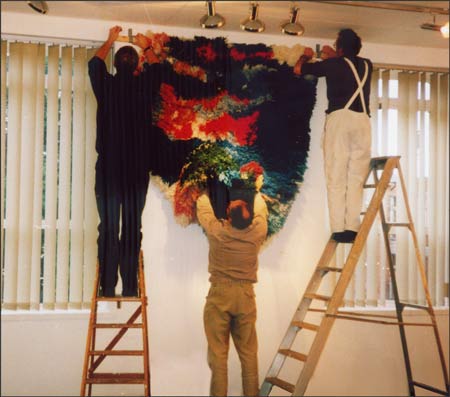 There are three component parts, warp, weft and pile. This warp is covered with a graph of 7 inches x 7 inches (17cm x 17cm [105 knots] marked with a coloured thread so the tying of the knots is kept within scale. The weft / pile created of Ghiordes knots consisting of three strands, each thread can be a different colour or shade of a colour and cut 10 inches ( 25cm) long, they are placed as a painter would place a brush stroke. Therefore many colours and shades subtly create the design, which is a story each individual Ryijy invites the spectator to unfold. However, the painter can erase his paint and dab again, change his mind; the weaver must be precise, make a final decision, once tied the choice is there forever. After one row of knots approx ½ inch (15mm) of plain weave is woven to form the basic fabric canvas.
Understanding a Ryijy cannot be hurried. Take a while to study each, let it invite you to contemplate and dream. Each has an essence; a theme; the story lies in the mind's eye of the spectator. It produces an atmosphere of calm, time lost by wandering thought and imagination. A draught, or tactile disturbance can change the surface and when you return again, each viewing should take one on another journey. Should electric fans be blown across the surface, movement resembling verdant growth, is portrayed.
I once sat beside a child waiting to be called from a waiting room. He sat very still contemplating for ages on 'Spring'. Impatient I just had to ask him what he saw. 'A Tiger's eye' was the quick reply. A far cry from my 'Down the rabbit hole' sketch in the woods, but I had achieved.
Venezia was created through a very special Air line pilot when flying from Venice at night. He very kindly flew round again so I could save the colours and meanderings of water. Romney Marsh need I say more? Seaspray Happens when one stands on any rocks in the sunshine and I was showing this to my children!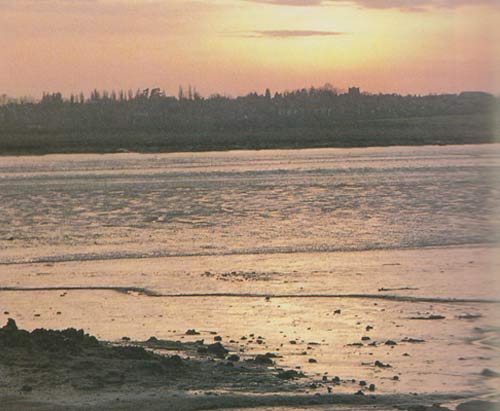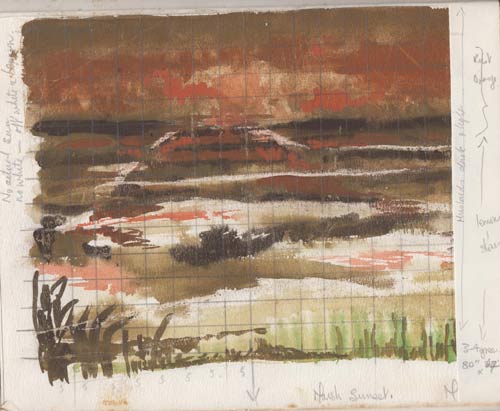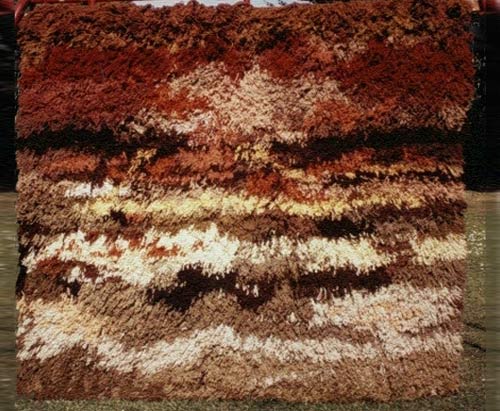 my inspiration from nature
---
After studying in Scandinavia where DESIGN and SHAPE was the optimum, where COLOUR was clear and touch, pleasing, I returned to England intent to paint with wool, recreating Ryijy textiles. These original bed covers, known in Finland for over a thousand years had almost been lost , even unknown in some areas, until the influence of the Bauhaus, who interpreted their designs on simple looms. I have expanded on their resurrection using old looms, abstract design influenced by nature in all her wonders and natural fibre. Wool has the ability to absorb colour in so many variables, is tactilely pleasing. No need for 'Do not touch signs'. This textile also produces emotion in its suggested shapes, blending and movement. Wool had sustained British industry since Henry 3rd so what better fibre to use. There was no excitement in my experiences of industrial cloth production in England so these artifacts had to be created by hand , in the traditional method, akin to the oriental carpet, made in singe bed width and enlarged later with a second piece sewn down the centre, when required. Each one unrepeatable and the product of many hours work.
Karen Garwood-Young's book is not "a teach yourself to weave" type of book. It's a compendium of basic weaving information. Such as how to approach planning cloth and calculations.

Handwoven Magazine U S A